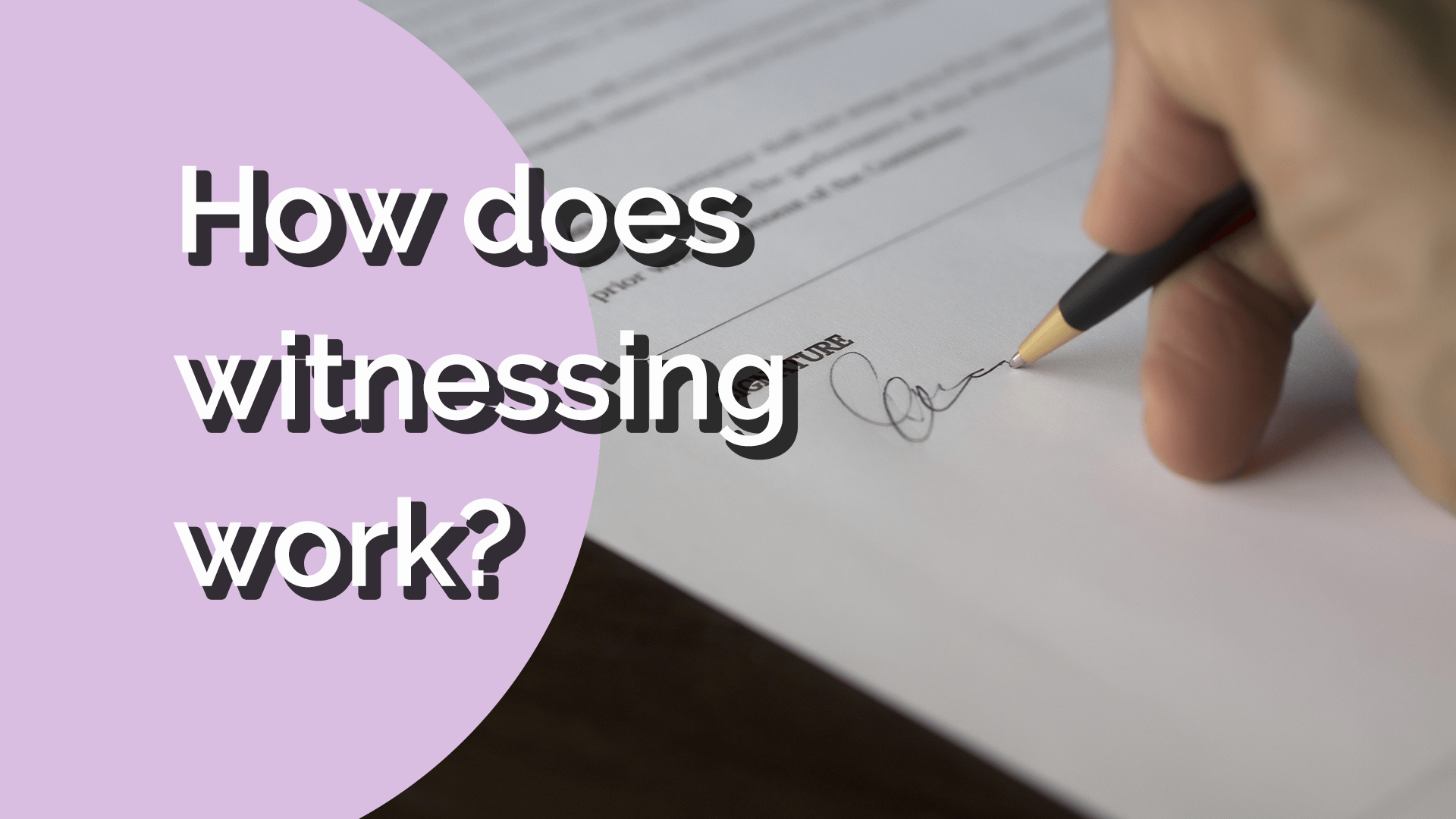 How does the witnessing process work?
guide
Mar 12th, 2022
2 min read
Anyone can be a witness with a couple of restrictions. The following are information related to the signing and witnessing of your Will.
Why do I need witnesses for my Will?
To make your Will legally binding, you will need 2 witnesses to sign the Will with you. Your witnesses do not need to read the content of your Will, but they should acknowledge your signature so they should be mentally and physically present at the time. If there is a dispute in the future, then your witnesses can verify that you signed the Will with them.
We will provide you a set of instructions when we produce the Will to you, so you can follow the guide to make your Will valid.
Another reason a witness is needed is to ensure that you have the testamentary capacity to sign the Will.
What is testamentary capacity?
Testamentary capacity has become much debate in the courts when a Will is being disputed by family members. In addition to being legally competent (of legal age), you must also be mentally competent to make a Will. You must understand:
that you are making a Will and what that means;

the extent and value of your property;

that you have considered everyone that you would like to include in your Will; and

that you are making your Will under your own free will and you are not insane or delusional.
If you are unclear of any of the above or have any doubts, you should have a medical practitioner to act as a witness for your Will.
Who can be a witness?
Anyone can be a witness provided that they are 18 or above and do not benefit from your estate via your Will, examples such as friends, relatives or colleagues.
Who cannot be a witness?
Generally, the following are those that cannot be a witness:-
Your spouse.

The beneficiary in your Will and their spouse.

The executors/trustees and guardians chosen in your Will and their spouse.

Someone who is mentally ill or blind.
What will the witnesses need to do?
Your witnesses must be mentally and physically present at the time when you are signing your Will. They must also acknowledge that you are signing a Will, that you are mentally present and that they are witnessing your signature.
They must then also sign your Will adding details of themselves, so they can be contacted in the future when there is a dispute.
Why should I have a medical practitioner as a witness?
If you are an elderly, terminally ill, mentally ill or have a serious condition, then you should engage a medical practitioner to act as a witness to your Will. This way they can determine your mental capacity and provide protection to your Will should there be a dispute on your testamentary capacity in the future.
Do remember to bring an additional person as the 2nd witness when you meet the doctor.
Does my Will need to be notarized?
In most states, it is sufficient to witness the Will with 2 witnesses. You can also consider signing a self-proving affidavit with a local notary to speed up the probate process, but this is only optional and does not affect the validity of the Will.
US witness

notary

signing witness

US Will

witnesses

Will validation